I am honored to be the featured Realtor in this month's Hollister Free Lance, Realtor's Corner.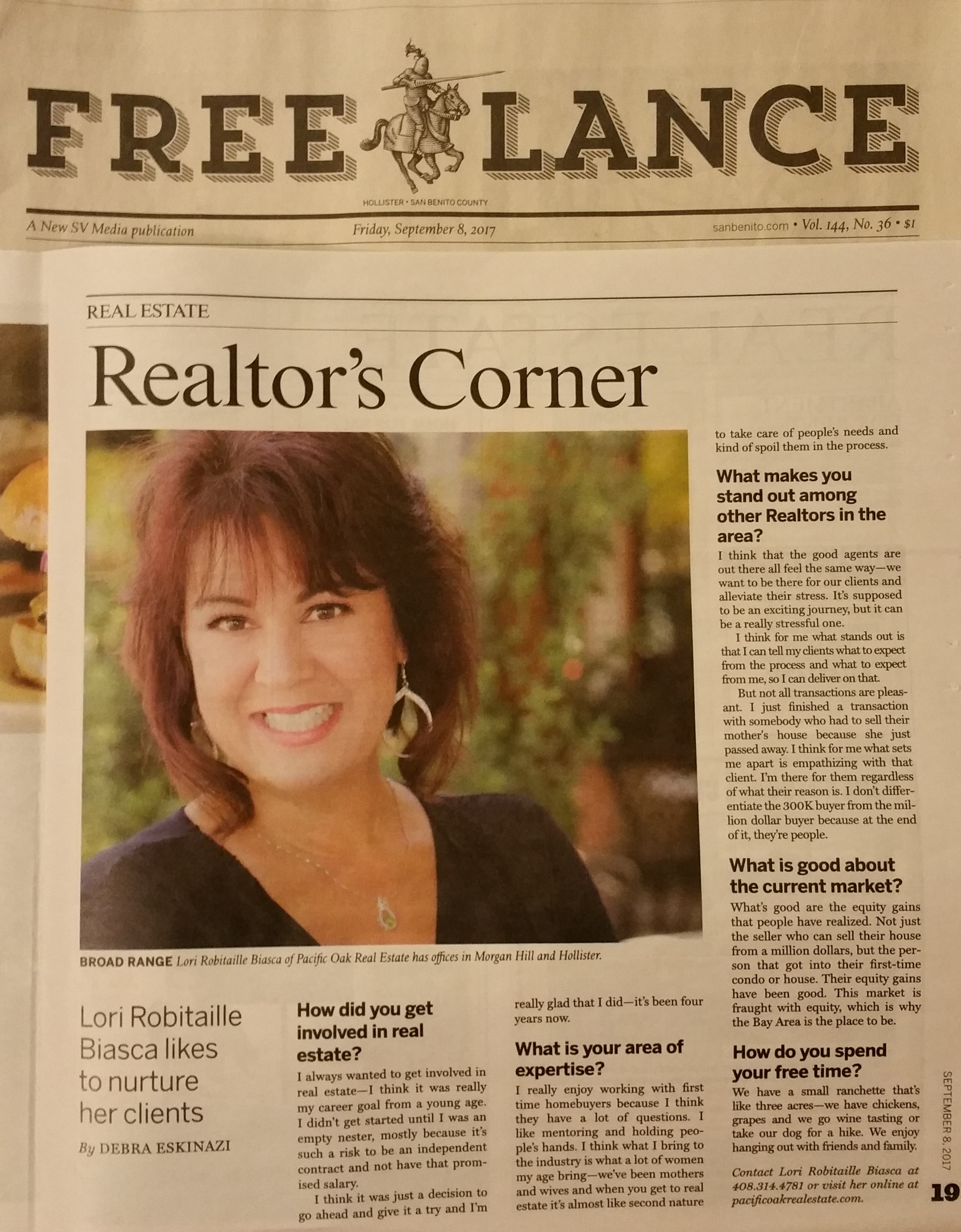 Realtor's Corner, Hollister Free Lance
Lori Robitaille-Biasca like to nurture her clients
by Debra Eskinazi
How did you get involved in real estate?
I always wanted to get involved in real estate – I think it was really my career goal from a young age. I didn't get started until I was an empty nester, mostly because it's such a risk to be an independent contractor and not have that promised salary.
I think it was a decision to go ahead and give it a try and I'm really glad that I did – it's been four years now.

What is your area of expertise?
I really enjoy working with first time homebuyers because I think they have a lot of questions. I like mentoring and holding people's hands. I think what I bring to the industry is what a lot of women my age bring-we've been mothers and wives and when you get to real estate, it's almost like second nature to take care of people's needs and kind of spoil them in the process.
What make you stand out among other Realtors in the area?
I think that the good agents out there all feel the same way – we want to be there for our clients and alleviate their stress. It's supposed to be an exciting journey, but it can also be a really stressful one.
I think for me what stands out is that I can tell my clients what to expect from me, and I will deliver on that!
But not all transactions are pleasant. I just finished a transaction with somebody who had to sell their mother's house because she just passed away. I think what sets me apart is empathizing with the client. I am there for them regardless of what their reason is. I don't differentiate the 300K buyer from the million dollar buyer because at the end of it, they're people.
What is good about the current market?
What's good are the equity gains that people have realized. Not just the seller who can sell their house from a million dollars, but the person that got into their first-time condo or house. Their equity gains have been good. This market is fraught with equity, which is why the Bay Area is the place to be.
How do you spend your free time?
We have a small three acre ranchette – we have chickens and grapes, we go wine tasting, take our dog for a walk or go for a hike. We love hanging out with friends and family.